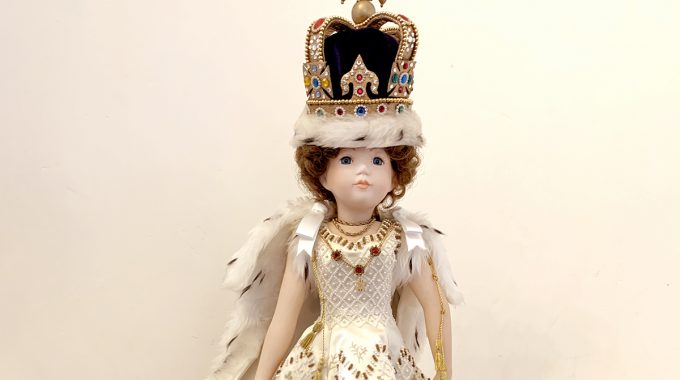 FOUR helps Chantry Place to house replica display of The Queen's 1953 Coronation robes
For the first time, a stunning miniature replica of The Queen's 1953 coronation robes will be on show to the public as part of Chantry Place's Platinum Jubilee celebrations. Visitors will be able to see the robes on display from Friday May 27th until Sunday June 5th next to the Centre's royal throne photo opportunity on the lower ground floor by Oliver Bonas and opposite H&M HOME – and FOUR helped this to happen!
Molly Ives (1918-2013) from Thetford, made the dress, crown and 36-inch train and completed it in 1996. The dress took 800 hours to create with 4,200 beads handstitched onto it, while the crown has 2,922 pearl beads and 1,200 gold beads. The purple velvet 36-inch train took Molly 250 hours to complete and has gold thread hand embroidered onto it. In total, the robes took 1,150 hours to complete over an entire year.
The FOUR PR team liaised with Molly's son, Michael Ives, who chose Chantry Place to display the beautiful robes as part of its Jubilee celebrations. We interviewed Michael, picked up the doll and have sorted the display of the doll at the Centre. We can't wait for everyone to see it!
Michael said: "My mother's period dolls have received so much admiration from all who have seen them, and my wife and I thought that The Queen's Platinum Jubilee celebrations were the perfect opportunity to have this specific doll on display. We hope the public admires it as much as we do! My mum always liked needlework and doll making, resulting in a fantastic talent for designing and making clothes for herself, her mother and later, her sisters and their children. I am sure she would be extremely proud that it is going to be on display."
Paul McCarthy, general manager at Chantry Place, comments: "This is a treasured family heirloom, so we are honoured that Molly's son, Michael, chose Chantry Place to display the beautiful robes for the first time. This Queen Elizabeth II Coronation outfit was a huge undertaking and the needlework is phenomenal, so we thank Michael for allowing us to display it! We are excited about our upcoming Jubilee celebrations, which also includes Royal Guards and a free Walkie Corgi trail for families."