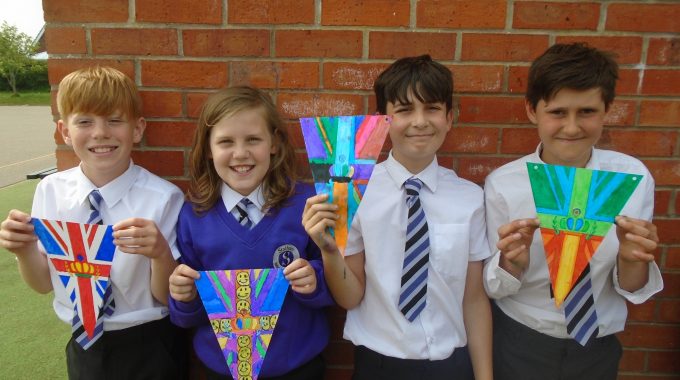 FOUR arranges for local schools to decorate Chantry Place with Jubilee bunting
As part of the Jubilee celebrations at Chantry Place for The Queen's Platinum Jubilee, FOUR designed and created some special Jubilee-themed bunting and arranged for some local schools from across Norfolk to help decorate it – and it looks amazing!
Our PR team got in touch with five local schools to make the Centre look colourful and bright for the celebrations with students taking part in the decorating ranging from four to 12 years old.
The bunting for Chantry Palace will be on display from Friday 27th May 2022 until Sunday 5th June inside the Centre. Trust us, it looks so good and the students have worked so hard!
Paul McCarthy, Chantry Place's general manager, said: "The Jubilee is all about celebrating The Queen and our local community, and we have loved seeing all the photos of the students decorating the bunting. The bunting looks so colourful and bright! We hope that they will bring their friends and family to the Centre to see it on display and also enjoy our other free events at the Centre, including a Walkie Corgi trail and photo opportunities."
Glenn Russell, executive headteacher at Stalham Infant & Junior Schools, said: "Our school is extremely honoured to be one of only five schools to have been asked to take part in such a unique opportunity as part of the Jubilee celebrations. The Year 6 children had an incredible time decorating the bunting and the results are simply superb. Our children have taken so much pride in decorating the bunting knowing that it will be displayed for the public to view in Norwich. Excitement has been building as our Year 6 children are extremely keen to see their finished bunting on display at Chantry Place and have spoken enthusiastically about taking friends and family from our community to see it pride of place on display."
For more information on events at Chantry Place, visit Events – Chantry Place