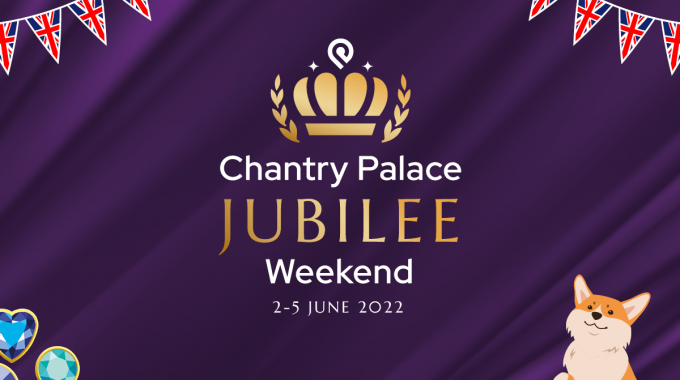 FOUR rebrands Chantry Place to Chantry Palace to celebrate The Jubilee
As the full service marketing agency for Chantry Place, we knew we had to go big for The Jubilee and create awareness and encourage footfall to the Centre, as well as create visual content for social media. We wanted to mark The Queen's 70-year reign and have lots of fun at the Centre to celebrate!
Our PR team came up with the idea of rebranding Chantry Place to Chantry Palace for the celebrations, which means the Centre has to look the part! Our design team at FOUR have done a wonderful job of creating something really dramatic, fun and celebratory – we can't wait to show it off!
Here is what else we have come up with for Chantry Place…
We will have The Royal Guard on Chantry Square, as well as celebrate The Queen's favourite dog breed with a free Walkie Corgi trail for families throughout May Half Term.
The free 'Walkie corgi trail' will take place from Monday 30th May until Sunday 5th June, with families tracking the Queen's corgi characters which have escaped the palace! Spelling out a Jubilee-themed word, entrants will be entered into a competition to win a right royal day out, worth over £300! FOUR also arranged a fantastic goody bag too for the first 500 people to take part and sorted the competition prizes.
Outside on Chantry Square, visitors will discover Chantry Palace, an amazing photo opportunity with a Royal Guard on sentry duty over the four day holiday weekend between 2nd and 5th June.
A royal throne and red carpet, complete with an incredible royal backdrop, will also be situated on the lower ground floor from 2nd to 5th June, so visitors can enjoy being a King or Queen!
Whilst taking part in our free Walkie Corgi trail and snapping selfies with the Royal Guards, you will see that Chantry Palace is decorated with fantastic Jubilee themed bunting. To help us with the bunting, students from local schools including Charles Darwin, Free School Norwich, Magdalen Gates Primary, Notre Dame Prep and Stalham Academy got their creative heads on to decorate some for us!
FOUR's work for The Jubilee at Chantry Place includes events, marketing, PR, social media, design, community work and arranging print.